Business Resources
Find resources here to assist you in the initial planning stages of starting a business or growing a business.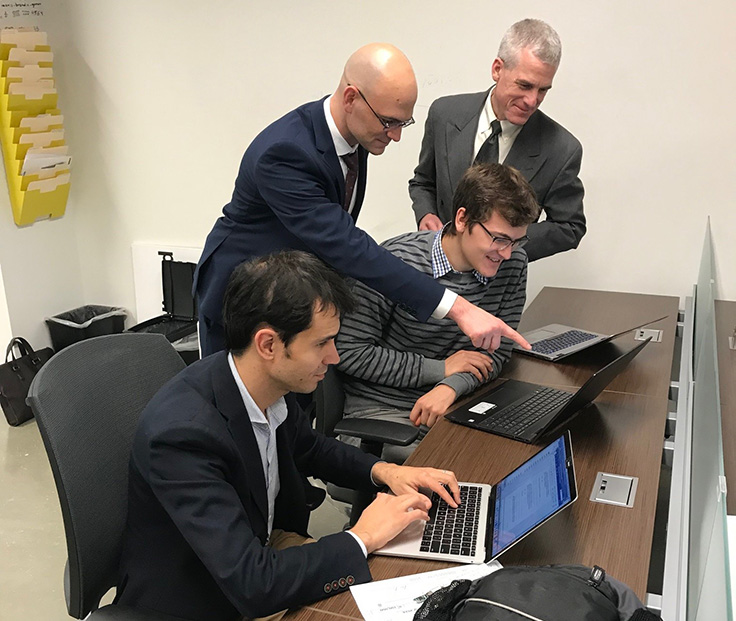 Recognizing the gap in educational programming for women entrepreneurs, the Kabara Institute of Saint Mary's University developed a suite of training events designed to specifically support women interested in starting or growing a business. Partnering with RAEDI, the Rochester Area Chamber of Commerce, Collider Foundation, SCORE, and Rochester Women Magazine, this initiative has resulted in popular free monthly events that focus on topics such as financing, marketing, and pivoting a business model. The monthly event is held at Saint Mary's University Cascade Meadows campus in Rochester. Follow the WE Forums on Facebook at WEForumRochMN to stay updated on upcoming events.
1 Million Cups in Rochester takes place the first Wednesday of the month at 9 a.m. on Zoom. During each event, entrepreneurs have six minutes to present their company or business idea (from newly formed up to 5 years old) to a room full of community members. For the next 20 minutes, the audience will ask questions, provide helpful feedback, and share similar experiences or support.
Every 1 Million Cups event concludes with a question posed to the entrepreneur: "What can we as a community do to help you?" This cultivates the intention that 1 Million Cups chapters are created by the community for the community.  https://www.1millioncups.com/rochester
Collider hosts regular webinars on business and personal development skills, as well as multi-week classes that help entrepreneurs dive deep into their entrepreneurial journey. Collider's "Basics of Entrepreneurship" course helps entrepreneurs start with an idea and launch a company.  www.collider.mn
Rochester Rising amplifies the stories of Rochester entrepreneurs through original, insightful content. It was launched in 2016 to tell the unbiased stories of growth and gaps in our entrepreneurial ecosystem and to share the reality of entrepreneurship with the community. In 2019, Rochester Rising merged with Collider Foundation and serves as the storytelling arm of to amplify stories of all the city's entrepreneurs.  https://rochesterrising.org/
Ecosystem North goal is to shine a spotlight on the people and organizations that support the Minnesota region's entrepreneurs, uncovering the real story of what inspires and drives them to be entrepreneurial champions.  https://rochesterrising.org/ecosystem-north-1
E1 (Entrepreneurs First) is an ecosystem designed to enhance regional connectivity among builders and stakeholders in 11 counties within southeastern Minnesota. RAEDI is a partner in the E1 network.
Any new startup will be able to access the region's resources through a hub software platform, receive educational offerings including Design Thinking and Lean Startup classes, as well as take part in 1:1 mentorship and funding guidance that is customized according to where that entrepreneur is on their startup journey from concept-stage to growth-stage. Learn more about E1 here. https://www.entrepreneursfirst.org/about
The Southeast Minnesota Chapter of SCORE provides free and confidential one-on-one business mentoring tailored to meet the needs of small business and personal objectives. The chapter also offers local workshops for a modest fee, for both start-up and in-business entrepreneurs. Clients have access to dozens of local face-to-face mentors and hundreds of e-mail mentors throughout the country. Learn more about SCORE here: https://seminnesota.score.org/content/about-us-197
The Ecosystem Navigator is a program is a two-year pilot program to lower barriers to entrepreneurship in Rochester.This initiative provides entrepreneurs and prospective business owners with regional connections and education to improve their chances of business success. The program is focused on serving the Latino, Black, and Female entrepreneurs in our community.  Recent funding has allowed for the expansion of the program to any entrepreneur that is in need of assistance. This is a free service in the Rochester entrepreneurial ecosystem. https://www.collider.mn/ecosystem-navigators
The Southeast Minnesota Region Small Business Development Center (SBDC) offers at no cost, confidential consulting to help businesses in southeast Minnesota identify, understand, and overcome the challenges of starting a business, running a successful business, and developing exit strategies. The SBDC does not lend money to small businesses, however they work with the business owners and financial institutions to prepare documentation that lenders require for business loans. Learn more about the SBDC here: rochestersbdc.com
In the spirit of celebrating Entrepreneurship Week each year in November, RAEDI hosts a R.A.V.E. Event to recognize and award innovative entrepreneurs in the Rochester area. This event allows RAEDI and its partners in the entrepreneurial community to shine a spotlight on our entrepreneurs and the growing entrepreneurial ecosystem in the Rochester area.